Title IX & Sexual Violence
JCC prohibits gender & sexual discrimination
Title IX of the Education Amendment prohibits discrimination in the provision of services or benefits offered by Jamestown Community College based upon gender. Sexual discrimination includes sexual harassment, sexual assault, and sexual violence.
As defined by the Equal Employment Opportunity Commission, and the Office of Civil Rights Department of Education, sexual harassment is defined as unwelcome sexual advances, requests for sexual favors, and other verbal or physical conduct of a sexual nature.
The following are examples of types of conduct that may constitute sexual harassment:
Inappropriate touching, patting, or pinching
Physical assault or coerced sexual activity
Demands or subtle pressure for sexual favors
Obscene phone calls, email, or gestures
Any person (student, faculty, or staff) who believes that discriminatory practices have been engaged in based upon gender may discuss their concerns and file informal or formal complaints of possible Title IX violations with JCC's Title IX coordinator.
SPARC: Sexual & Interpersonal Violence Prevention & Response
JCC's Sexual and Interpersonal Violence Prevention and Response course (SPARC) is available in Blackboard. The course must be completed on a computer.
Log in to your Blackboard account
Select JCC Student Training, and follow the instructions to begin the course
Select SPARC 2020 from within the Select your desired course folder
Student Conduct Institute
JCC is a member of SUNY's Student Conduct Institute in support of Title IX training.
Title IX Final Rule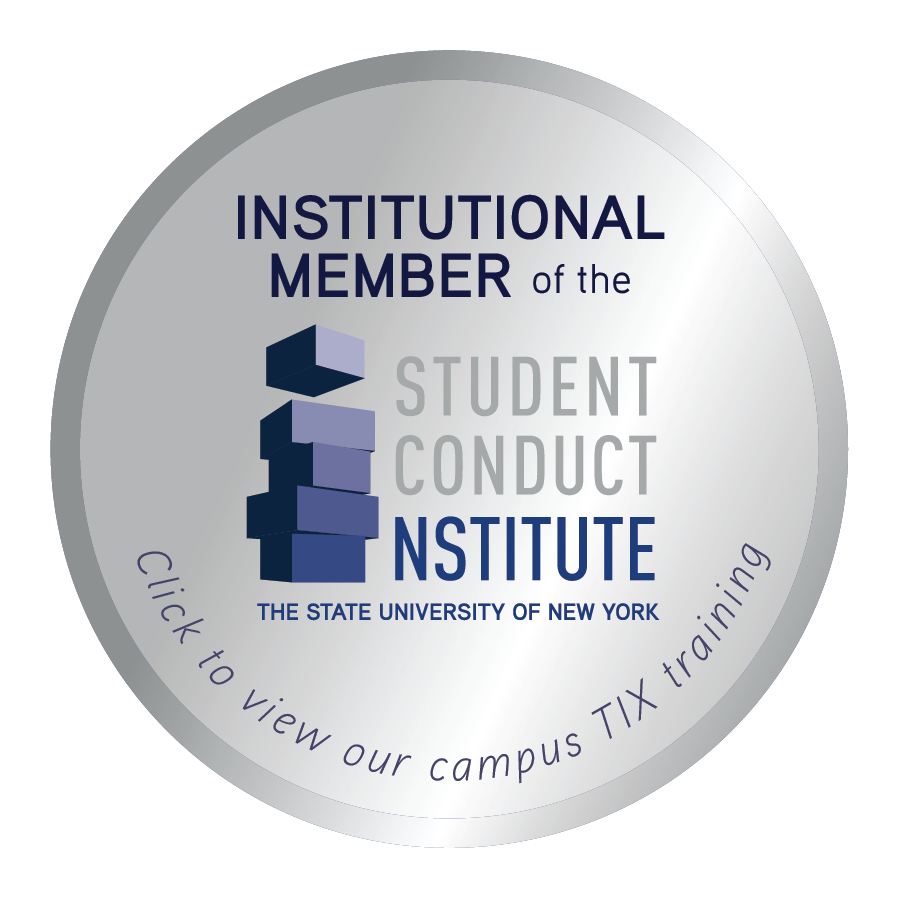 Resource Guide to Understanding Sexual Misconduct
This guide can be downloaded (.PDF) or viewed below by clicking on the chapter headings. It is a consolidated resource of information related to Jamestown Community College's Title IX program. 
Sexual Violence Prevention Campus Climate Survey
Consistent with New York State Education Law 129-B and policies of The State University of New York, Jamestown Community College participated in the 2019 University-wide Biennial SUNY Uniform Campus Climate Survey. The Survey gathered information about student and employee experience with sexual and interpersonal violence and knowledge of policies and resources.
At Jamestown Community College, 17 students and 150 employees completed the survey, for response rates of 0.8% and 31%, respectively. There were 12 full-time and 5 part-time students who completed the survey. Of those students, 12 were female, 5 were male and 1 of those students reported as non-binary.
No students of any gender reported in the survey that they were subject to sexual harassment or sexual assault in the prior year. 100% percent of students indicated familiarity with affirmative consent and that the college has policies and procedures specifically addressing sexual assault. 93% percent indicated that they knew how and where to report, and 63% percent could identify the Title IX Coordinator, which closely represents the correlation between full and part-time students.
Jamestown Community College, working with SUNY and community colleagues (including students, faculty, and staff), will use these data to improve response to violence, develop prevention programs, and will continue to study the issue. The next Climate Survey will be administered in the Spring Semester of 2021. More information about the Survey is available at: https://www.suny.edu/climatesurvey
2017 Sexual Violence Prevention Campus Climate Survey
This report contains the results from the Sexual Violence Prevention Campus Climate Survey that was conducted between March 27, 2017 and April 14, 2017 for the three campus communities of Jamestown Community College. View the survey report »
Printer-friendly version